The Himachal Administrative Services exam is one of the toughest and the most reputed examination conducted at Himachal Pradesh state level. This examination is conducted by the Himachal Pradesh Public Service Commission (HPPSC). To help you prepare and guide you through this exam, here we have for you a list of top HAS coaching institutes in Chandigarh. Under the Himachal Administrative Services exam, recruitment is done for reputed jobs in various departments of Government of Himachal Pradesh. The Central and State civil servants are in charge of the governance of the various departments (non-military) to ensure that the administrative infrastructure works according to the constitutional provision. Civil Servants have both power and authority. Clearing the HAS exam both preliminary and main, opens gates to higher esteemed posts like that of IAS and IPS officers. Hence HAS is one of the most prestigious and lucrative career options for those wanting to serve the nation and command respect as well as authority in the society.For this, one can take guidance from one of the best HAS coaching institute in Chandigarh and work in a competitive environment to ensure a good rank. The list of top HAS coaching institute in Chandigarh are –

(Call +91 9815429085)
This institute is located in sector 17-d, Chandigarh; which is quite literally the heart of the city. This institute is one of the oldest Civil Service training institutes in the tri-city area. Their presence in the city has been for the last 15 years and they certainly have produced quite a good number of Civil Services officers in these past 15 years. They have an excellent teaching faculty as they are well trained, experienced and they keep themselves updated with the latest subject matter. Students are provided with new strategies on how to go about the questions and also about how to deal with the pressure that the Civil Service exam brings with it, thereby giving them an edge over the other candidates. This institute is among the list of top HAS coaching institutes in Chandigarh and their results, coaching pattern as well as their methods etc.. state the reason as to why the institute stands at this position. The courses offered for Civil Service exam are as follows-
IAS Coaching
PCS Coaching
HAS Coaching
HCS Coaching
SPONSORED
O2 IAS academy is a premier institution for preparation of UPSC/PCS examinations. It was established in 2014 with the vision of Mr. K. S Sandhu who is a renowned Civil service mentor in North India. The idea of establishing the academy was to provide an innovative and Interactive platform to students which can help them in their endeavour in civil services. Assimilating the latest trends in Pedagogy around the world, The academy has tried to come up with latest technological and analytical aids to increase efficiency and effectiveness of learning in students. Also the focus is more towards peer-to-peer learning revolving around debate- discussion sessions in classroom. The batch strength is kept to just 30 so that quality and efficiency of education is not compromised. The teachers include ex civil servants and Scholars. The academy has produced excellent result since the inception with numerous IAS, IPS and PCS officers.  Our vision is bring an officer out of you and make you reach your dream job. Join us to make a difference.
The courses we provide are as follows:
1 year foundation programme for UPSC
2 year Foundation Programme for UPSC
3 year Graduation cum Preparation programme for UPSC
1 year Integrated UPSC/PCS programme
3 month Crash course on Pre and Mains ( Jan and July session)
SPONSORED

Nimbus Academy is one of the best places to be well equipped with the fine nuances of the civil services exam. With a great faculty by the side of students at all times along with an enriched course content, Nimbus ensures that students take away their fair share of success from here. the institute has a great infrastructure along with a top notch study environment making it all the more comfortable for students to study for their dream job.  One can always book a personal appointment and visit the campus so as to know more about the various courses and fee structure.
(Call 8822299444)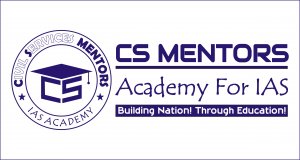 CS Mentors Academy is located in Sector 34 A, Chd. It provides a great coaching for IAS, PCS, HAS and HCS examinations. The institute is known for offering daily current affairs handouts to its students so that they stay abreast with the recent happenings in and around the world. In fact, most surprising, the center also offers special classes on how to go about reading the newspaper. This is something that perhaps no other centre does in the tricity. The experienced faculty along with world class infrastructure is again something civil services aspirants cannot afford to miss. One can get assisted in their prep all round the clock.
The Chanakya IAS Academy institution is one of the best HAS coaching institutes in Chandigarh. For those who fall within the Civil Services eligibility criteria and aspire to achieve the top Civil Services in Himchal Pradesh, Chanakya IAS Academy trains its candidates in a way that they get an all-round polishing. They teach in Hindi medium as well as English medium which help students of different cadres get best of the training without any compromises. Apart from this, Chanakya aims at inculcating leadership qualities while also giving importance to social responsibility and building the mind power of each candidate so that each aspirant get a wholesome training. The institute is located in sector 8C, Chandigarh. The following courses provided by the coaching institute are are follows:-
Himachal Administrative Services exam coaching
IAS exam coaching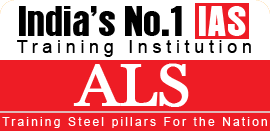 ALS IAS Academy, located in sector 25, Chandigarh, is one of the top institutes which provides coaching in IAS, PCS, HCS, HAS, Judicial Academy. IAS examination is one of the most difficult examinations in India. To clear the exam, One needs excellent guidance. This institute helps the students enrolled with them, get a brilliant strategies which they can use in getting the examination clear.The study material which is provided is up to date and simplified. The students which are part of ALS IAS Academy, get to have a well experienced and well dedicated teaching faculty which has made the ratings of the institute impressible in Chandigarh. The fee structure of ALS IAS academy is moderate and very much reasonable as far as the quality of the education provided. ALS IAS academy gets you updated with all the current affairs with their regular updating notes and suggested magazines and rest other suggested reads.
This institute falls among the top 10 HAS coaching institutes in Chandigarh because of the competitive environment which they offer and the manner in which the classes for preparation are conducted. The institute plans induction classes, seminars, tests, guest lectures, preparation for optional subjects as well as mock interviews etc. which helps groom the applicant holistically. There have been a number of successful students from this institute which state their excellence. This institute is located in sector 25D making it quite approachable for students around Chandigarh Tri-City. As one of the best HAS coaching institutes in Chandigarh, Abhimanu IAS study makes for an excellent choice for aspiring students. The courses available with this institute are –
Indian Administrative Service Exam Coaching
Punjab Civil Service Exam Coaching
Haryana Administrative Service Exam Coaching
Haryana Civil Service Exam Coaching
Himachal Administrative Service Exam
Delhi Career Group is also among the top 10 HAS coaching institute in Chandigarh. The center is located in sector 34, Chandigarh. It is very popular Civil Service examination preparations and they have a variety of experienced and qualified teachers who have come to join them from all over the country. This institute has got its popularity due to the results that they have delivered. The faculty here focuses on each candidate's individual goals in a very clear cut manner. The institute also provides some techniques and a lot of practice in a challenging environment which helps aspirants clearing the examinations successfully. This institute is definitely one of the best HAS coaching institute in Chandigarh and the courses available here are –
IAS Coaching
UGC NET exam
NDA exam
HAS coaching
The Dronacharya IAS institute is located in sector 36, Chandigarh. It imparts comprehensive training for all the three levels of the Civil Services examination which are the preliminary exam, mains examination and the interview stage. This institute focuses on the overall development of the candidate enabling students to discover their true potential. The institute has found its rightful place on the list of top 10 HAS coaching institutes in Chandigarh owing to their results, faculty and overall training that is imparted to their students. The coaching groups available at Dronacharya IAS are –
Indian Administrative Service Exam Coaching
Punjab Civil Service Exam Coaching
Haryana Administrative Service Exam Coaching
Haryana Civil Service Exam Coaching
Himachal Administrative Services exam coaching
This institute is located in sector 38D, Chandigarh. The team present here is very well versed and they give 100% dedication towards each and every batch that comes to study here. They guide the student right from the level when the aspirants are filling up the Indian Civil Services exam form, considering their exam criteria and understanding the Civil Services exam syllabus etc.. More than 200 toppers have graduated from here and they are seated among those who are currently holding the highest positions in the government of India. This institute ensures regular motivational sessions as well so as to keep the students focused. Quality learning and preparation material is provided to the students as well. This institute is definitely one of the best HAS coaching institute in Chandigarh and there are a few courses that they have on offer. The main courses for the Civil Services exam which are offered by this institute are as follows –
Indian Administrative Service Exam Coaching
Punjab Civil Service Exam Coaching
Haryana Administrative Service Exam Coaching
Haryana Civil Service Exam Coaching
Himachal administrative Services Exam Coaching
The Krishna Study Academy is one of the oldest coaching institutes in the tri-city area. This academy has certainly enhanced and improved itself with the changing times. They offer foundation courses well in advance for those students who are very clear about their aim. This foundation course helps students prepare much more thoroughly for the examinations. The Krishna Study Academy provides integrated lectures, quality enrichment programs while also organises tests, seminars and interview sessions for their students so that they can prosper and learn how to deal with various situations that they will face during the course of the Civil Service Exams. This is also considered as one of the best HAS coaching institute in Chandigarh because of their competitive environment which they provide for the aspiring students. The courses available at this academy are –
Indian Administrative Service Exam Coaching
Punjab Civil Service Exam Coaching
Haryana Administrative Service Exam Coaching
Haryana Civil Service Exam Coaching
Staff Selection Commission Exam Coaching
Himachal Administrative Services Exam Coaching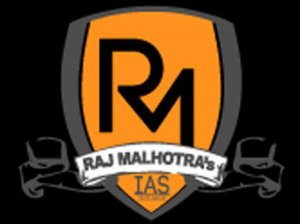 Raj Malhotra IAS is one of the best HAS coaching in Chandigarh. The institute is led by Mr. Raj Malhotra who has 20 years of teaching experience in Chandigarh and Delhi. Having taught at institutes like Khan Study Group, Vajiram and Ravi, Mr. Raj Malhotra is the most experienced faculty in Chandigarh for Civil Services Membership. The batch size at Raj Malhotra IAS is also small which is favourable to the students. The coaching institute provides the study material which has all the important questions and previous years' question answers. The coaching also provides the online material so that they can carry it anywhere they want without any load. The coaching also features library where there are books of interest. As the coaching institute has positive reviews over the years and has provided satisfacory results, the institute deserves to be in the list of best HAS coaching institutes in Chandigarh. The courses available at Raj Malhotra IAS are:
IAS Coaching
HAS Coaching
HCS Coaching
PCS Coaching
First Floor, Dainik Bhaskar Building, Slum, Sector 25, Chandigarh
| Course Name | Fees |
| --- | --- |
| IAS ( Main + Prelim ) | ₹ 1,05,000 |
| PCS ( Main + Prelim ) | ₹ 1,05,000 |
| HCS ( Main + Prelim ) | ₹ 1,05,000 |
+6 More Courses with Fees
AD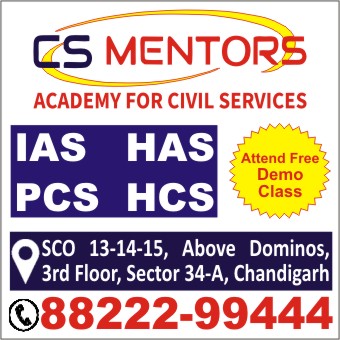 AD